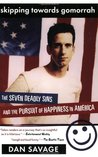 Skipping Towards Gomorrah by Dan Savage
My rating: 5 of 5 stars
My fellow liberals: remember the Bush years? We were at the mercy of the "Moral Majority," the theocracy seemed inevitable, our LGBT friends (or selves) were criminals, and everywhere you looked, another blonde Republican lady author was scrawling a book that we were traitors or monsters or traitor-monsters. It was a dark time. Dan Savage wrote a book lashing out at the perceived "immorality" of the times. "All things in moderation," he writes, "even moderation itself."
And although I'm writing this review during the odious rise of Donald Trump and all that this entails about a certain percentage of the electorate, it really has gotten a lot better. Gay marriage is the law of the land (although like abortion rights, it's under assault and will be for a long while), DOMA is dead, and the "Moral Majority" as a political entity to supporting an obvious lizard-person in a human skin suit (Cruz) or a blatant opportunist who so obviously doesn't give a shit about that "moral majority's morals" so long as they vote for him. It's been a long, hard fall from the Evangelical's pinnacle of power in the early 00's. We have an African American president now. We (hopefully) will see the first female president. Pot is legal in a few states, including mine! Concern about climate change has gone from being a punchline on South Park to a real thing that many reasonable people are seriously concerned about. In short, it's a different era.
But it's good to remember what it was like, not too long ago. "Skipping Towards Gomorrah" isn't timeless; it's rooted deeply in the political landscape that was the Bush years. But that's precisely one of the things that makes it so compellingly readable today. It's a chance to remember what it was like before. It's a chance to compare what we railed against then to what we rail against now. And while we're certainly not living in liberal utopia (and might soon take a hard right turn to dystopia, if we're not careful) . . . it has gotten better.
Aside from the trip down memory lane, Savage's writing style is crisp and wonderfully funny. He writes with clarity and self-awareness (but not self-consciousness). It's unlikely that you'll read this book if you're not already drinking deeply of our liberal gay hippie kool-aid (it's organic and locally sourced, yo) but Savage will surprise you. He doesn't always do what you'll expect for a sex columnist who is also a gay man. Look for the chapters on wrath (guns) and pride (gay pride) to see what I mean.